I think most of us are finally getting to experience the gorgeous spring weather! It's about time, right? This time of year is a fabulous time for any type of celebration – baby showers, bridal showers, and lots of birthday parties! A big trend we've been seeing recently that works for any of these parties? A fiesta theme! The explosion of bright colors just makes us so happy! Here are a few of the decor trends with this theme we have seen, and they are super easy to DIY!
1. A Taco Bar. Well first and foremost, what's a fiesta without tacos?! Wedding Chicks has the details on how to get this "Make Your Own Taco Bar", complete with a shopping list and all! Who's hungry?
2. A Colorful Backdrop. Color, color, and more color! We love it! An easy fringe backdrop is perfect for photos, or hang it behind your dessert table to make a statement. Get the look with the super simple tutorial from Brit + Co.
3. Giant Balloons with Tassels. Large balloons with any kind of tassels are huge (no pun intended) right now. This takes it a step further by using a confetti filled balloon with bright fringe tassels, and really just makes you want to celebrate. (Source.)
4. Tissue Fringe Garland. When you picture a Fiesta, you imagine the gorgeous and sometimes intricate papel picado strung overhead. HWTM offers a DIY on how you can achieve a similar look by using fringe garland as an alternative. We love the look of papel picado but are all for a time and money saver, and this works great!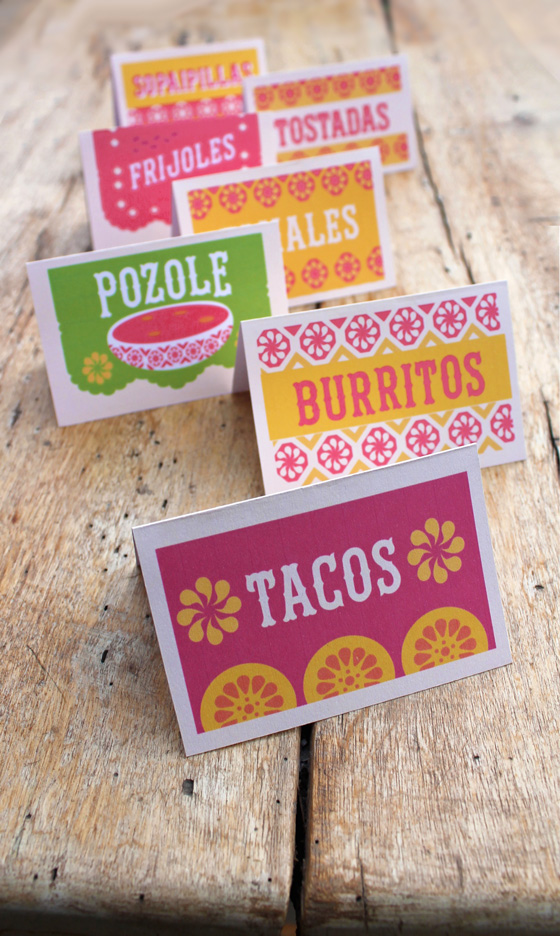 5. Printable Food Signs. Tent cards work wonderfully as a menu display or even for place cards. Add a colorful detail to your food table by creating your own or utilizing these free printables from Happy Thought! 
6. Fringed Napkin Pocket. It's all about the details. Dressing up utensils is a creative and easy way to add those special details to your party. And trust me, people notice! Sarah Hearts gives a DIY tutorial on how to get this adorable Fringed Napkin Pocket look for your next Fiesta!
7. Colorful Tableware. This is a must! Straws, plates, napkins – all with lots of beautiful and bold color! Don't be afraid to mix and match, that's what makes the Fiesta so great! Use 3 or 4 main colors and spread them throughout. We love the use of color in this party from HWTM!
These parties look like so much fun, I may just have to find an excuse to throw one!
Thinking of hosting your own? Undercover Hostess has you covered for your next celebration! Shop our online store to find these bold and bright Fiesta worthy party supplies!